For all lovers of the Japanese Fashion Scene, and specificaly the Harajuku style who are living in Europe: Good News! They will be coming to Paris soon! Harajuku Kawai is a Japanese inspired style that has been made immense popular outside of Japan due to Gwen Stefani, who often used it in her shows and music clips. It is so popular that some regard it as a fashion movement.
the Harajuku girls
The background group has gained huge popularity since being featured in Gwen Stefani's show, and even one of the pop-diva's songtitles was "Harajuku girls". The Harajuku name comes from a distyrict in Tokyo, Japans capital. There, every sunday, a variety of young fashionable Japanese gather with their Lolita, Gothic and Decora-outfits. The region around Harajuka station has grown to be the fashion capital of Japan.
HARAJUKU KAWAii
is a popular Japanese fashion and music event about which TokyoFashion.com has been reporting for the last couple of years. Harajuku Kawaii features fashion shows from kawaii Harajuku-friendly fashion brands (including 6%DOKIDOKI), concerts by kawaii singers (including Kyary), special celebrity appearances, popup shops, and lots of fun. While 6%DOKIDOKI has made several international appearances and Kyary Pamyu Pamyu held a concert in Los Angeles last year, the entire Harajuku Kawaii experience has never been seen outside of Japan – until now!
Asobi System have just announced that the next Harajuku Kawaii – with Kyary Pamyu Pamyu, 6%DOKIDOKI, Spinns Harajuku, and more – will take place at Japan Expo in Paris on July 8, 2012.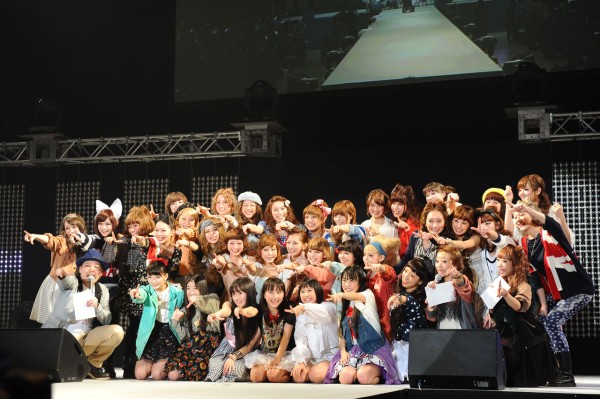 In addition to Kyary, Harajuku Kawaii in Paris will feature several of the top models from the Harajuku scene (including the always-amazing Una). Here is all of the Harajuku Kawaii info directly from the source (translated by us):
"HARAJUKU KAWAii!!!!" is going worldwide!

"HARAJUKU KAWAii!!!!" will officially be held in Paris, France, at the "JAPAN EXPO," one of the largest Japanese culture festivals in the world. On July 8 (Sun.), "HARAJUKU KAWAii!!!! in Paris" will be held on the Japan Expo Main Stage.

Kyary Pamyupamyu, a Harajuku icon who charms the entire world, will perform a live concert. There will also be a fashion show in which the creators of Harajuku street culture, popular Aomoji-kei models such as Fumiko Aoyagi, Abochi, Ayumi Seto, and Una will perform.

The "Kawaii" of Harajuku will be on display for all to see in Paris, France, a city known for its love of Japanese culture.
HARAJUKU KAWAii!!!! in Paris Event Summary
Date: July 8, 2012 (Sun.)
Location: Paris Nord Villepinte
Exhibition Area: Main Stage
Time: Scheduled for 15:15-16:00 local time
Audience: Approx. 15,000 people
HARAJUKU KAWAii Contents
Harajuku-style fashion shows
Kyary Pamyu Pamyu live concert
Performing Artists / Models
Artists: Kyary Pamyu Pamyu
Models: Fumiko Aoyagi, Apochi, Ayumi Seto, Una
Fashion Brands
Innocent World
SPINNS
HELLCATPUNKS
6%DOKIDOKI
JAPAN EXPO Info
Date: July 5, 2012 (Thurs.) – July 8, 2012 (Sun.)
Time: 9:00 – 19:00
Location: Paris Nord Villepinte Exhibition Area
Expected number of attendees: 200,000 people
Website: Japan Expo
[Thanks to TokyoFashion.com]